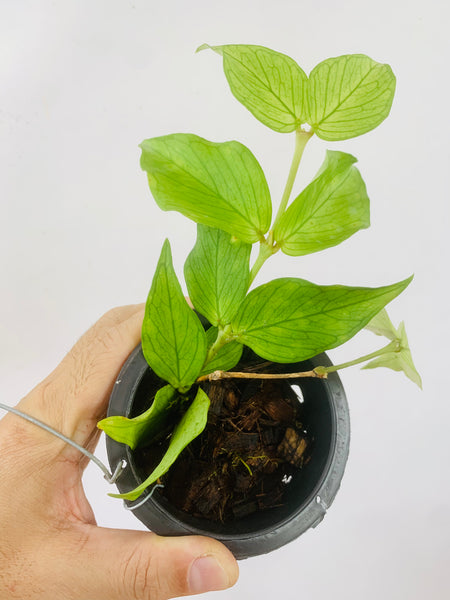 Hoya polyneura (s)
Hoya polyneura, commonly known as the fishtail hoya, is a species of flowering plant in the genus Hoya found from the Himalayas to northwest Yunnan. This species has a pendant, epiphytic growth habit, and its common name derives from the mermaid's tail shape and fine venation of the leaves.
Care Guide
Light: Bright shade to some gentle direct sunlight
Water: Water when medium is completely dry or when leaves loose turgidity
Humidity: Average
Medium: We recommend using our Tropical Rainforest Epiphytic Potting Mix with this plant (available online). 

Propagation: Propagates easily with stem cutting
Not safe for pets.
Disclaimer
* This product comes plastic pot. Blooms and peduncles may not be present on your plant.
We are committed to sending you the healthiest plants we have.
As no two plants are alike, yours will have its own unique shape, size and personality, please expect this natural variation from the photos.
 Please note that we do not deliver to addresses outside Singapore
For address within CBD, Sentosa, Pulau Ubin,  Jurong Island or other islands of Singapore; we are not able to deliver as well.