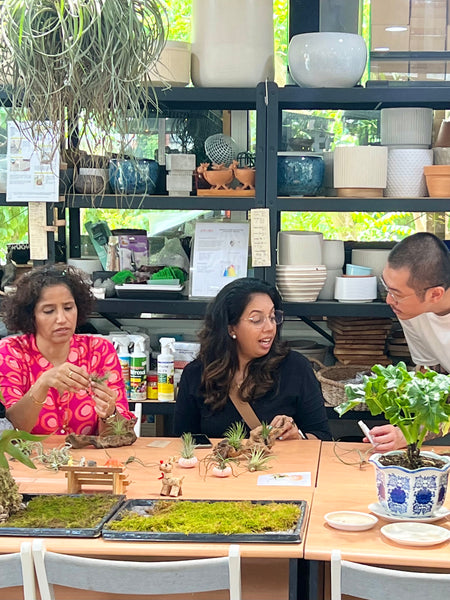 Fun & Easy Airplant Crafting Workshop
Air plants, also known as tillandsias or tilly are one of the easiest to care for and versatile plant for crafting work. Known for their bizarre and spiky form, they have low maintenance needs and they are growing increasingly popular for crafting, design and decor for individual or group.
An excellent opportunity to express your creativity with our wide selection of airplants, drift wood, exotic seashells (optional item), dry botanical (optional item) and figurines (optional item).
Ideal for kids, parents and friends to participate as a group for bonding session or to organise this Air Plant Crafting Workshop for group events.  Kindly contact us if you will like to arrange for a Air Plant Crafting Party for your kids and friends.
Airplant crafting workshop will include the following;
Materials Includes in package

15-20 cm Drift wood
choice of

 2 

assorted airplants

Airplant glue to use
Optional items  

seashells

figurines

dry botanicals
Duration approximately 15-30 mins
Sign up any workshop with us today!

Suitable for a min group of two. Arrange your own time and date.
WhatsApp 96520313 to book for slots
workshops are perfect as gifts too for your loved ones