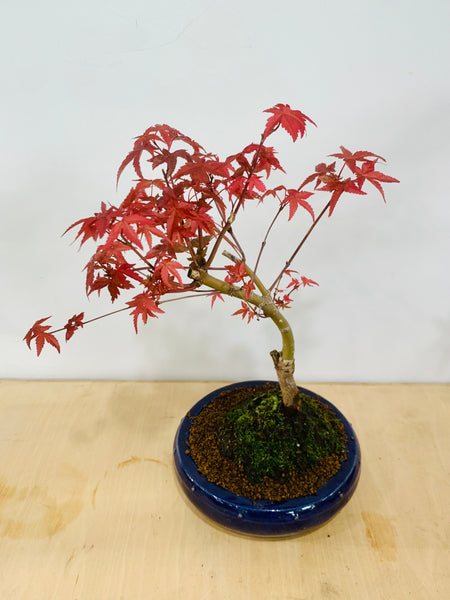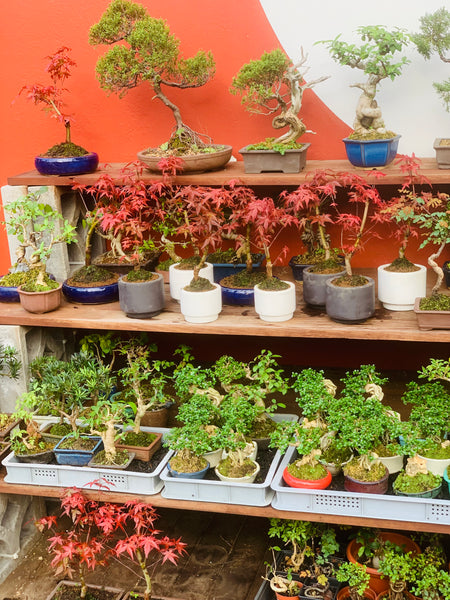 Maple Bonsai in vintage Yixing blue glazed ceramic pot (Acer Palmatum)
Acer palmatum, commonly known as Red Emperor Maple or Japanese Maple, is a woody plant native to East Asia and Southeast Russia. It is sought after for its red leaves, which are actually the newly emerging leaves. These leaves turn green when mature.
Care for your Maple Bonsai in in bright yet cool environment. Heat and direct sun can burn the leaves easily. Mist the leaves and water adequately.
This plant comes potted in Vintage Yixing blue glazed ceramic  pot (18 cm dia x 5.5 com ht) in Japanese akadama soil. This vintage pot is produced 30+ years ago. Limited product. These set of beautiful vintage pots was acquired earlier from an collector who has kept them more than 30+ years ago.
Care Guide
Light: Bright shade
Water: Water when medium is top one third dry
Humidity: Medium
Medium: Well-draining medium
Propagation: Separation of offsets
Pet-friendly
Disclaimer
Product photo shown is for reference only. Actual plant colour, type, size and arrangement may differ from photo. As no two plants are alike, do expect its natural variation from the photos.
* This product comes in black pot in acadama soil and moss top 
We are committed to sending you the healthiest plants we have.
Please note that we do not deliver to addresses outside Singapore
For address within CBD, Sentosa, Pulau Ubin,  Jurong Island or other islands of Singapore; we are not able to deliver as well.